We all have them. Assets: those strengths and skills that can be utilized to achieve our highest levels of personal and professional performance. Our challenge is to understand those strengths, as well as our gaps, and drive their development toward a vision for our desired future. But that doesn't happen without a plan. Most importantly, it has been proven that lasting personal and professional development happens over time, with practice, accountability and support. That's where the Retained LearningsSM Coaching Program comes in.
This focused coaching model provides leaders with a process that has been proven to show results and is specifically tailored to the individual's goals and vision. Your coach is a trained professional who enhances your ability to learn, make desired changes, and achieve your goals. The Retained LearningsSM Coaching Program includes all of the following stages: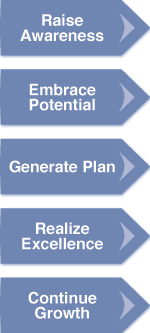 Through the Retained LearningsSM Coaching Program, I partner with my clients to achieve their personal goals. Through regular coaching sessions, I help my clients design action steps and then hold them accountable to their own stated desires, by providing perspective, feedback and smart questions along the way. As a result, clients stay motivated, make significant changes and achieve more than they may have thought possible.
If you desire change that is supported, sustained and focused, the Retained LearningsSM Coaching Program is for you. Contact Mary Werner at mary@wernercoaching.com for more information.